We are the Best-In-Class
Products & Solutions
Founded and operated by former election officials, we know that every election authority is unique.
52000000
Total Checkins Since 2014

8200000
Early voting checkins

200000
Same day registration

POLL PAD NATION
28 States + Washington D.C.
1,000 Jurisdictions & Counting
90,000 Units Deployed
SECURE, ACCURATE VOTER LOOKUP for Voter Check-in
VOTE CENTER STYLE OR PRECINCT STYLE Polling Locations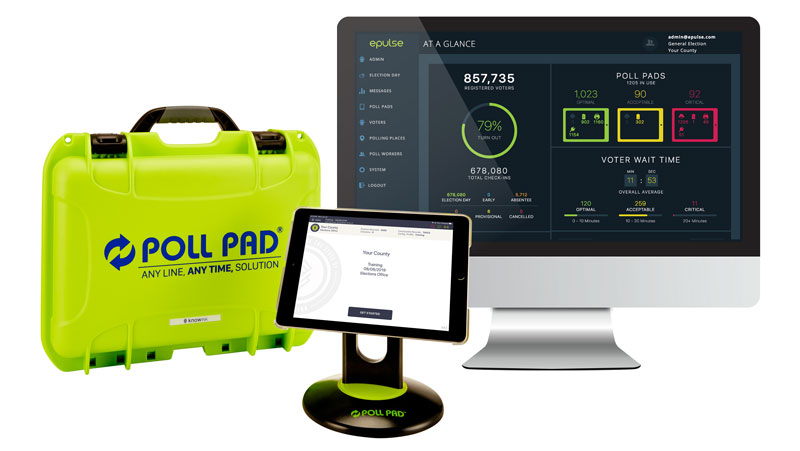 REDUCES TOTAL NUMBER of Provisional Ballots issued
News and Articles
KNOWiNK News
The latest news from KnowInk as we continue to service the community.
Poll Pad ease of use and flexibility has allowed Fairfax County to dramatically decrease preparation time and post election audits, while simplifying the process for the election workers at the polling place. The support and turnaround time on any inquiries we have is first rate.
We purchased 13 poll pads in time for use in the May 2016 Election and we are EXTREMELY happy with the ease of use and functionality of the poll pads.  Checking voters, the reports you can run and the way it updates is amazing and saves so much TIME!
Both our election workers and our voters were impressed with the efficiency, intuitiveness and simplicity of the KnowInk Poll Pads. We experienced significantly fewer set up issues than we had with our older equipment. Check in was faster for the voters, and tear down was super simple for weary workers at the end of the night.
The Poll Pads are a fabulous product!  Our pollworkers love them – in fact they fight over who gets to use them.  Using the Poll Pad has reduced the amount of time necessary to check in a voter by over 50%, so we need fewer pollworkers.  The support provided by KnowInk has been excellent – the training and the user manuals are first rate!
Poll workers and voters especially appreciated how easy the Poll Pads are to use…it's really a wow factor.
Let's Get Started.
We would love to hear how we can help you modernize your elections and enhance your voters experience.